Essem has brought in new technology in the country to reduce the downtime in the plants like, Hydraulic Tube Bundle Extractor, Powerlance along with High Pressure Hydrojetting Systems, which are some of the tools, which have enhanced the safety operation in the process industry and reduced the downtime. Essem has contracts with all the plants of Reliance Industries Ltd, Oil & Gas industries, Steel Plants in the country and also overseas.
In the Downstream sector, ESSEM provides tools to the Refineries, Petrochemical, Power plants and other process industries to clean the static equipment, like Heat Exchanger Tube Bundles by providing special tools and also clean them economically and expeditiously.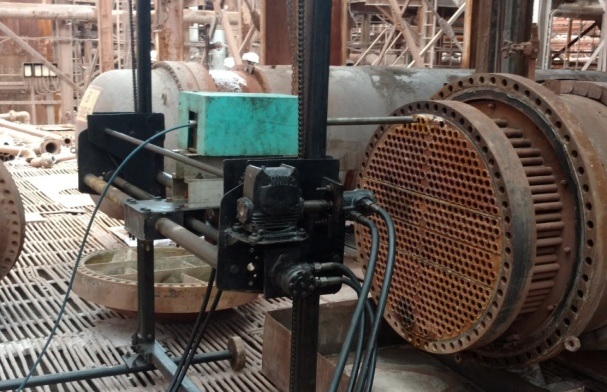 MultiLance Power Cleaner (MPC)
Effective cleaning of condenser tubes in power plants has been successfully demonstrated to be carried out when we use up to 1,000bar pressure using our MPC system. In Alumina Digestion process the pressure requirement may go up to 2,000 bar pressure and a rigid lance MPC is used in such cases. Essem has developed a MPC system for automated hydrojetting cleaning at high pressure range of 100-2000 Bar.
Using the Remote Controlled MPC, we are able to clean tubes at high pressure and flow to effectively clean the inside of the condenser tubes and other heat exchanger tubes without using any chemicals. This saves tremendous time taken for setting up chemical circulation apparatus as well as there is no treatment required for the waste water. This saves time, gives higher cleaning quality and reduces environmental compliance requirement at the plant.
APPLICATION: For cleaning Condensers/Evaporators/Heater Tubes in Power Plants; Alumina Refineries; Chemical & Oil & Gas Industry. For cleaning FinFan exchangers in plants.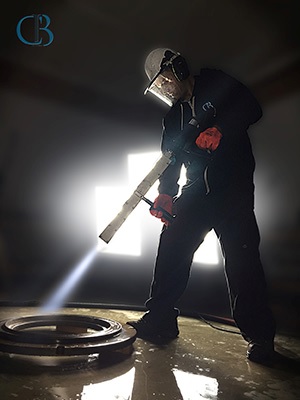 Ice Blasting
Ice blast is the surface preparation and cleaning solution for the 21st century. It is superior to existing methods like dry ice cleaning and shot blasting currently used in the industry. It is a non abrasive cleaning process that utilises ordinary tap water, compressed air and electricity to create an environmentally friendly,cost effective method to address a large variety of cleaning needs.
Ice blasting is the only environmentally safe solution as there is no air pollution and the waste product is carried away by water. Employee safety is paramount here are there is no air pollution or extreme temperatures to deal with. The utility consumption is also very low compared to other cleaning methods. The media used is ice, which is easily and cheaply available.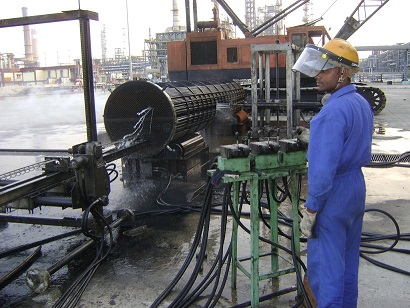 MultiLance and Gun Indexer
MultilanceCleaning System (MLS): for cleaning ID by MLS and OD by GIS (Gun Indexing System) of the a tube bundle simultaneously for very hard scale deposits in Oil & Gas Refineries/Petro chemical Plants giving more than 90%+ heat transfer efficiency. The tube bundle is rotated on heavy rollers for quick turn-around during cleaning operations. All operations are controlled remotely.
APPLICATION: In Refineries, Petrochemical Plants and other process plants for cleaning of tubes and bundle shell simultaneously
Air Pre-Heater Cleaning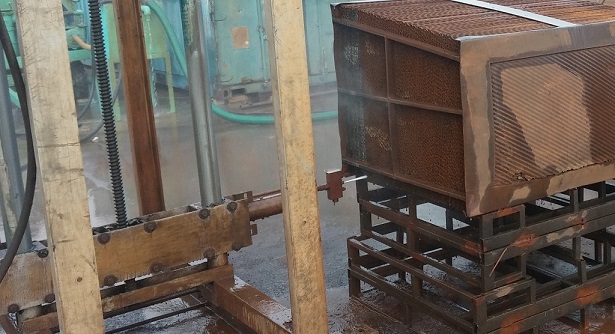 Cleaning Operation – Offline
Indian coal contains high Ash content & some imported coal comes with higher Sulphur content. This leads to accumulation of ash deposits between elements of APH Baskets and in Tubular APH, causing thermal inefficiency & increasing Coal consumption. Essem has developed a cleaning method to wherein the basket elements are cleaned up to 1,000 Bar for hard deposits. We have cleaned more than 6,000 Baskets in 4,000 MW plant and given them excellent savings as improved Heat Transfer.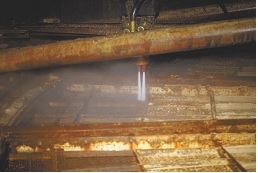 Cleaning Operation – In Situ
In Case the deposits are not hard then all the baskets can be cleaned In Situation saving precious time to take them out & putting them back.
APPLICATION: In Power Plants for Air Pre Heaters

Pipeline Cleaning
Rot Mole/Rotating Hose Device cleaning system is a revolutionary internal pipe cleaning system with specifically designed cleaning nozzles. Device rotates the specially designed hoses against the pipe wall as it passes through the pipe for cleaning
APPLICATION:All process plants which have pipelines including bends

Tank Cleaning
In Process plants, tanks and reaction vessels are required to be cleaned on regular bases and industrial safety norm now require minimizing human entry inside the vessels. Essem provides Tank Cleaning Tools for such applications.
APPLICATION: All process plants having tanks, including large diameter tanks.

Bundle Puller
To extract, clean and insert the Heat Exchanger Tube Bundles may be simple, but is a complex operation and requiring technical skill to manipulate the complete operation.Extraction and Insertion of Tube Bundle at ground level and heights in Refineries process plants requires extra skills. Instead of using just a crane or hydra for extraction, Essem recommends using a Bundle Puller to complete the work in the shortest time possible.
| | | | |
| --- | --- | --- | --- |
| EQUIPMENT | APPLICATION | INDUSTRY | RESULTS |
| Multi Lance Cleaning System & Gun Indexer System | Simultaneous ID/OD Cleaning of Tube Bundles/Heat Exchangers | Oil & Gas & Petrochemical Plants | 90% Plus Heat Transfer Efficiency Achieved. |
| Multi Lance Power Cleaning – Flex Lance | Heat Exchangers / Condenser Tubes | Oil &Gas/Power/Process Plants | 1. Vacuum Gains: 9mm of Hg at 490MW Unit: NCR Region. 2. 4mm of Hg at 83MW Unit: U.P. 3. 10mm of Hg at 600MW unit: M.P. 4. Improved performance at 300 MW Unit in Maharashtra |
| Multi Lance Power Cleaning – Rigid Lance | Heat Exchangers | Oil & Gas / Process Plants | 1. 90% Plus Heat Transfer Efficiency. 2. Increase of 27-44% HTC. |
| Automated Gun Indexers | Offline APH Baskets & Tubular APH cleaning | Power Sector | 1. 100% APH Tubes cleaning with excellent results at 83 MW Unit in U.P. 2. More than 6000 APH Baskets Cleaned at 800 MW Unit in Gujarat. |
| ROT MOLE / RHD Device | Pipeline cleaning | Oil & Gas/Process/Chemical Plants | Complete cleaning of choked pipelines with hard scale. |
| 3-D Tank Cleaning | Tanks / Vessels | Process/Chemical | Cleaned Inner Surface / Walls of Tanks & Vessels. |
| Bundle Puller | Tube Bundle Extraction | Petrochemical Plants/Refineries | Regular work in Petrochemical Plants/Refineries. |